Champagne as a food wine? Hmmm I can see some of you frown and look a little unsure, as indeed Champagne is generally more associated with celebrations than it is regarded a gastronomic beverage. Very few people indeed choose Champagne as the wine to accompany the main courses of their meal. Yet I believe, with the diversity of Champagne styles, there are plenty of bottles out there one could enjoy with breakfast, lunch or dinner. And many a tourist do just that when they visit the region as they feel it is part of the local experience. I tend to agree with them as I always feel extra special when Champagne accompanies my meal so decided to share a few occasions and places where one can enjoy great food with an interesting bottle of Champagne :-)
My favorite meal to pair Champagne with is
breakfast
. However, I have yet to find a place that actually serves Champagne breakfast or even brunch – maybe because breakfast in France is generally a quick meal involving something sweet (croissant, pain au chocolat or even biscuits) which is dipped into a large "bowl" of coffee w hot milk. However, this does not stop me from enjoying a Champagne Breakfast (at home) on a regular basis. Depending on how elaborate the breakfast is I tend to pick different Champagnes. With fresh fruit, muesli and home made muffins or scones I prefer a
rosé
say
Champagne Daniel Pétré & fils Cuvée Perle de Rosé Brut
or a local
Blanc de Noir
generally by Champagne Tribaut or Champagne Gobillard both located in Hautvillers. For a cooked breakfast say of smoked salmon or trout with scrambled eggs and other trimmings I prefer something with a little more body and age and will often pick a vintage Champagne. Even if Champagne brunch is not readily available outside of Hotel Caroline, there are plenty of places one can lunch or dine at and drink locally. Recently I was taken out for lunch to
Le Grand Cerf
– a Michelin star restaurant in Montchenot – about half way between Reims and Epernay. The lunch "menu" is pretty elaborate and excellent value for money at just under €50. The wine list has an awesome Champagne selection including many unusual growers cuvees. We enjoyed the
Heraclite by Champage Stroebel Brut Nature
made from 100% Pinot Meunier – a wonderful discovery and I hope to visit the Stroebels soon to learn more about their wines! I have visited quite a few restaurants in the area in the last 6 months but I think this one is my favourite for a bigger meal (the menu consists of 5 courses). The service was excellent (and this is not always a given in France), the food delicious, and the atmosphere relaxed and intimate. I really can't wait to revisit :-)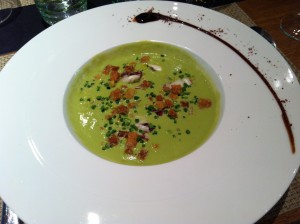 The Michelin starred restaurant Les Berceaux in Epernay, is another great place to eat fabulous locally and discover interesting and new Champagne producers. Their wine list is simply amazing!!! Both in the restaurant and the more informal adjacent Bistro Le Sept they serve all by the glass pours from magnums. The restaurant offers a 3 course €38 lunch menu and a €80 5 course evening menu. Alternatively you can do as a lot of locals do and enjoy the 3 course €28 menu (lunch or evening time) at the Bistro. The Champagne list changes regularly, but I just want to share 2 wines I particularly enjoyed recently – Fleur de Passion by Champagne Diebolt-Vallois which I shared with 2 girlfriends for lunch and Le Roi Soleil by Champagne Philippe Gonet – which was a perfect business dinner wine :-) I have to admit to be a regular at the Bistro as I prefer the 3 course concept to a more elaborate menu (especially at night) and the restaurant is very conveniently located in the heart of Epernay.
Another gem is
Hotel Restaurant Les Avizés
in Avizes, Côte des Blancs. It is a fact that there are very few opportunities to eat something half decent in and around the Côte des Blancs – so I was delighted to discover Anselm Selosse's newish restaurant. Les Avizes opened last summer and it has quickly become very popular with locals and food savy tourists alike. The setting is simply stunning, both when eating outside or in the restaurant as this place just oozes class. The menu is very seasonal, the food is very fresh and extremely tasty and beautifully presented. As the restaurant is quite small it makes for an informal and intimate experience. Besides Selosse Champagnes, the wine list includes many up and coming Champagne stars (Bereche, Chartogne…) as well as a great selection of biodynamic and organic Terroir wines. The 3 course lunch menu, which can be enjoyed on the patio weather permitting, is a steal at €35 so do book ahead if you want to discover this place! A last place I want to talk about is a little more down to earth yet the focus is definitely on local and organic produce.
Le Restaurant de L'Abbeye
opposite the Abbey of Hautvillers, is a wonderful place to enjoy some more classic Champenois cuisine. There are several different menus available which change on a regular basis and most of them include some form of traditional sous vide cooking – as Thierry Landragin really is a master in the latter. The menus range from €28 to €48 euro's depending on the number of dishes but for a quick lunch the weekday special including a main and a desert for €15 is a real bargain!! Lunch is best enjoyed on the large patio and I like to pair it with the
Champagne Landragin Brut NV
("house champagne") which is a fresh yet food friendly wine from Hautvillers and at €30 a bottle one just can't go wrong:-) The wine lists has a small selection of Champagnes, with a focus on local (ie. around Hautvillers) wines, as well as a few wines from the rest of France. It is a great place to chill after a visit to the famous Abbey and my lovely village:-)
I hope this post inspired you to either try to pair Champagne with your favourite meal at home or to book into one of the above mentioned restaurants to enjoy some Champagne with your meal!