At the beginning of June I spent my birthday learning all about
bio-energetic Champagne at Franck Pascal
's. Franck and Isabelle had invited me together with the staff of
La Truffiere
, a Michelin starred Parisian restaurant, to share their 20 year wine making journey with all its ups and downs.
I had first tasted Pascal's's wines 3 years ago at the Terres et Vins de Champagne event and I was especially blown away by the vins clairs Pascal presented. As mentioned in earlier posts, vins clairs – or the wine before the bubbles – are not the easiest wines to taste; they are often highly acidic, lacking in fruit intensity and generally a bit thin. However, Franck Pascal's still wines had body and a vibrant character – and bizarrely enough they spoke to me even more than his Champagnes.
Year upon year it seemed this vibrancy in his still wines increased, and with every visit I understood a little more. And then this sunny day in June when Franck and Isabelle shared their full story all the pieces of the puzzle just fell into place and I saw the full holographic picture :-)
It all began in 1994;
Franck Pascal
decided to give up his career as a chemical engineer in the printing industry to take on the family vineyards. Several reasons had contributed to this sudden change of heart at the end of his studies. When the bright business intern proposed an innovative printing concept he quickly found out that in a corporate environment long term gain was a long way behind short term benefits and that if he would continue a career in engineering this would lead to many a frustration. A second reason was the pull of the family history: a few years earlier Pascal's younger brother had died which meant
the family's wine making tradition would live or die with him
.
Going out on his own initially proved easier than Pascal had anticipated. His university degree opened all kinds of unexpected doors and he breezed through the paper work. However he struggled a bit more when it came to working the vines – with hardly any experience he quickly found out the vigneron trade needed a bit more to master than simple bloodline… Eager to learn more, he embarked on a vine growing and wine making course in 1996 and paid close attention to every little detail – going as far as reading the fine print on all of the products he used. This is how he one day stumbled upon a familiar name on a pesticide; with a little research he discovered it was a very toxic product used by the army to produce chemical weapons. Though he realized the quantities of the poison were significantly lower in the treatment as in the weapons, he could not shake the feeling that continuous exposure would eventually poison him. He thus decided to stop using pesticides and synthetic fertilizers in 1998 and looked for alternatives in organic viticulture. From 2001 he also started to experience with indigenous yeasts.
A year later, looking to find ways to further improve the life in his vineyards he tentatively started to experiment with
biodynamic farming
, going about it very empirically: he divided up a vineyard in three – farmed one part conventionally, one part organically and one part biodynamically. Very quickly the noticed a big difference in the soil (and other) life in the biodynamic part. The wines from this part also showed more complexity and tension. The move toward biodynamic farming had been spurred by Pascal's meeting with
François Bouchet
, a guru on the subject. Bouchet had adopted biodynamic farming in 1961 and became a real mentor for Pascal. In the very hot summer of 2003 his vines were turning yellow in a vineyard planted on a hard chalk soil. Pascal had treated the vineyard with a nettle mixture to resolve the issue, but it was not working. He explained the situation to Bouchet, who advised him to treat the plot with a chamomile solution, told him where to find the flowers and how to mix up the solution. Pascal converted completely to biodynamic farming when he
saw his vines turn green whilst he was still treating them
– it took just 10 minutes to restore the vineyards health. The chamomile mixture had resolved the heat stress the vines had been suffering. The last step –
conversion to bio-energy
started with Isabelle being diagnosed with cancer at the beginning of 2006. Even though she trained as a micro-biologists and was very aware of the dangers of cancer, she could not come to terms with having to go for chemotherapy. In fact she was convinced that chemo would kill her rather than cure her. In her search for alternative therapies she stumbled upon a bio-energetic treatment offered in Paris and convinced Franck to let her try it.
Almost immediately her blood levels improved
and the couple actively looked to embrace the bio-energy principles deeper. They enrolled in a course and when the time had come to do the 2005 blends they decided to test the bio-energy principles on their wines. In September, they continued the experience on the juice of the new harvest.
Whilst most of us are familiar with organic and biodynamic farming, bio-energy is a bit of a black hole – at least it was for me… So what exactly is this bio-energy??
Bio-energy is all around us and it guides our natural way of living.
The universe is made up of atoms in motion; it is a big energetic field that vibrates.
Everything, including vines has their own bio-energetic fields; in the case of the vines the earth's energy – the energy in the centre of our planet – is responsible for rooting the plants whilst the sun's energy allows them to grow upward. Grapes, as fruit of the vines, are influenced by both energies. Before harvest, Franck and Isabelle go out in the vineyard to prepare the grapes for the harvest. They
inform the vines
about the upcoming harvest and the change of energy and form it will bring. When the grapes come in they receive another information session to prepare them for their imminent changing status (from grape to juice). After this, the juice and later the wine also undergoes regular information sessions till bottling.
The 'information' session consists of an exchange of vibrations – and vibrations are waves. So if by know you are thinking that bio-energy sounds a lot like some esoteric hocus pocus, it really is not some etheric bullshit reserved for a few ultra greenies or weirdo's. Instead these exchanges of waves are scientifically proven in the study of quantum physics.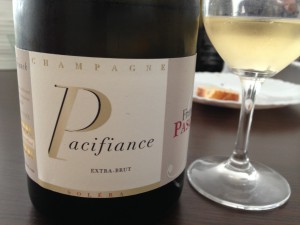 Pascal believes that the use of bio-energy allows his wines to show the true characteristics of his terroir. He sees his vineyards like children from the same family; they have similar characteristics – traits from the area and the winemaker. However just like every child is different from its brother or sister, so are his vineyards – they each have unique and individual characteristics. Pascal further compares the informing of the vines, juice and wines with the individual care parents take for each of their offspring; they care differently according to the child's needs and by doing so they allow their child to grow up into a wholesome, healthy and happy individual. The same principle can be applied to vines and wines – they all have slightly different needs. When these are taken into consideration the result is a wholesome, unique and vibrating Champagne – with very little additives using very low or no sulfur and indigenous yeasts.
Pascal's two first bio-energetic cuvees will hit the shelves next month. Pacifiance is Non-Vintage solera blend from the 2006 and 2007 Quentaissance – Pascal's vintage Champagne. It is a super fresh champagne, characterized by its mineral flinty notes and its amazing texture reminiscent of raw silk.
Sérénité 2010 is blend of Chardonnay and Meunier, vinified bio-energetically without the addition of sulfur – the energy, elegance and depth of this wine completely blew me away. No other wine I have ever tasted has left as deep an impression on me. Only 600 bottles are made so do try not to miss out!